5.11 vs Everyone else, what do you really want?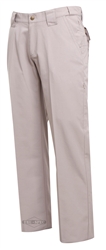 We know the elephant in the room in this tactical industry is 5.11 tactical.  We have had 9yrs experience dealing with lots of competitors and even though they are very small in contrast, there are so many ways of making tactical clothing, especially tactical pants that it's really going to come down to this…. Price points, quality control and person preferences.   There are going to be some that don't like baggy pants and some that want a straight leg tighter fit.   I have been wearing Blackhawk Warrior Wear for over 2yrs, Tru-Spec 24/7 tactical pants and Eotac and Woolrich Elite pants for almost 5-9yrs and they all fit me slightly different but I'm the same waste size in all of those brands.
This year I will be testing the waters with Vertx line even though I get sticker shock when I look at some of their products, but you do get what you pay for in tactical clothing.  The Tru-Spec 24-7 Series pants I wear are probable the best priced tactical pants I own and with the sales that the company does every year, you sometimes can get them for under $30 if you do  your shopping during the promotions.  The new Gunny pant has larger knife or flashlight pockets and a straight boot leg cut.  I personally like the gunny pant more but I wish it has elastic straps  inside the cargo pockets. If you wear 5.11 tactical clothing you might save a few bucks and consider the Tru-Spec tactical apparel line for Military and Law Enforcement as well as those who CCW.