Visibility, Blindspots, Proficiency and the Smith Optics Elite Pivlock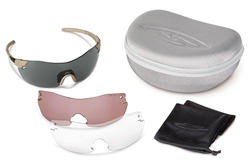 Sometimes people get sticker shock when they see some of the prices on ballistic eyewear, but we always have to remind people this is insurance for the "what ifs" that can and do happen.   There are many combat veterans that are coming back with damage to their eyes due to fragmentation that occurs when bullets fly and bombs go off.   In the real world, a small fragment of rock or metal is all it takes to alter your life and wearing cheap stuff to the range that people use for weed wacking.   I actually ran  into some local customers recently that were wearing Smith Optics Elite Sunglasses on a Sunday trip to the local hardware depot because they were wearing them while doing lawn mowing and yard work, that's getting your moneys worth!
In the real world of Law Enforcement, shooting ranges, and Military Operations, there are a lot of issues with fogging with eyewear from ballistic goggles, to Eyeshields.   In extremely active situations that is something that can as does occur and I have reports from many of the S.W.A.T Teams that operated during the aftermath of the Boston Bombings that had major complaints about moving from exterior to interior situations and ended up throwing there goggles off because they couldn't operated proficiently indoors with the eyewear on.   Goggles can be very clunky and also have a lot of blind spots due to the frames being so large so the reality is that ballistic protection with high visibility is really the best thing to look for.  The new Smith Elite Pivlock has two lense sizes, the Pivlock V2 and the Pivlock V2 Max, check out the Youtube.com video attached to the product to see how easily the lense interchange and the lense and kit options.