Tru-Spec Mens Tactical Boot Cut Trousers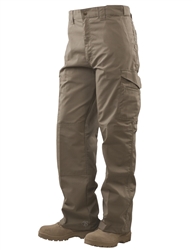 There are tons of tactical pants to choose from, but there are not that many we can say are good for everything.  We've been around long enough to see companies come and go, but as much as we have have our preferences, not everyone will be happy with just one brand.   We've done a brutal analysis of various tactical clothing companies, from Rothco, Tru-Spec, UnderArmor, 5.11 Tactical and Vertx.   Every brand has there own targeted market, but we've seen many people tend to lean towards the lower profile clothing because if you can wear it more, you are going to use it more.  Sometimes just a chance of color on a style makes the difference in your perceived profile.
Tru-Spec makes a quality product and is worth looking into, but they have a few duds from time to time.  With how competitive the tactical clothing industry is, price points and quality control is where it is at.  My personal preference in the Tru-Spec product line is towards the Tru-Spec (what was the Gunny Signature Series Boot Cut Pant) and is now called the Tru-Spec Mens Tactical Boot Cut Trousers, these have deep hand pockets for pocket carry, and larger knife pockets and makes a great EDC carry pant.  I do find that if you are carrying a sidearm on the strong side you might have issues with using the designed knife pockets which is why many other companies move pockets towards the front, like the 5.11 TDU pants and the Propper Kinetic Pants do, I wish Tru-Spec would design things like these but they still have some good stuff.