Knives, bullets and white lights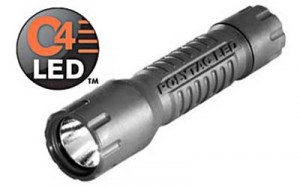 There are things that we never leave home without, our wallets and keys for the most part.   If we are CCW holders, we always leave with our guns, a knife can come in more useful than your firearm at times and even more useful, is a white light.   People seem to think that when you hear get a white light for your gun, it means mounting it, but there are other alternatives.   Section 8 Tactical makes a nifty light holder called the Ultimate Retention Device.   This device comes in real handy since it's not weapon mounted and really doesn't tie up your hand.
In the last few weeks, I've been in the car on camping trips and for fixing flat tires, but times I forgot to bring my flashlight with me.  Recently I took a Streamlight Scorpion LED and tossed it in my car with a Section 8 TacPac stocked with batteries.   With modern LED technology, battery life has been extended dramatically, but it's good to always know you have backup batteries around for the just incase scenario.  I personally see very little practical difference between Streamlight flashlights and Surefire flashlights.   The Streamlight scorpion works well on a carbine or shotgun and it's also small enough to fit in your pocket, but not too small to lose.