Having fun but having the right stuff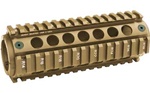 I would have to say that the vast majority of those that have anything more than a flashlight and optic on the M4 are probable putting something on our guns that we really don't need, but just enjoy having on.   There's nothing wrong with having an LWRCI upper with a quad rail or a MidWest quad rail if you think you can put it to use, but when we actually have to carry the Carbine for any real length of time, we'll wish we could strip a few extra pounds of weight off the gun.  Many of our Staff have been attending competition shoots lately that have been really well run.   These events are everything from battle scenarios or even Zombie shoots.
Last  year in Pennsylvania we attended a Carbine shoot where the the attendees has to sign in at 8am and once they left the club house, they couldn't drop off any gear and had to lug it all with them for the day.   All of the competitors were carrying M4 or AR15 variants and a few had AK rifles.    Ammunition loads were approximately 400rds of rifle and 100rds of handgun ammo.    I enjoy these events because we get too see some real hard use of tactical gear and tactical accessories.   We tend to not see things fail at these shoots because the competitors are in the higher class as far as skill and the types of firearms they use.   If you ever want to see what kind of optics work and which firearms and when things jam, go to a competition shoot at your gun club and sit back and watch.