Streamlight Profession Series 2L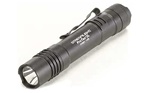 I have been looking to replaced my Streamlight Scorpion flashlight for some time now, but I didn't really have a clue from where to start.   I see so many flashlights being sold as CCW lights, but I really can't justify spending $100 or more on something that is easy to loose.   I'd rather tote a $40 flashlight that is just a bright, but I know where it is at all times and it doesn't disappear.   You're reading from a guy that has lost gear inside a few tactical vests before because it's just too easy to do.
I walked into a local gun shop and checked out a few Streamlights and the reason I have stuck with this brand is because I've never had a real reason to go to anyone else.  Streamlight flashlights don't burn a whole in your pocket and the Profession Tactical series has a strobe that I find fun to use on guests as well as use it for CCW.  The prices are reasonable and I didn't have a very good experience with a Surefire G2 that I first mounted on an M4 Carbine.