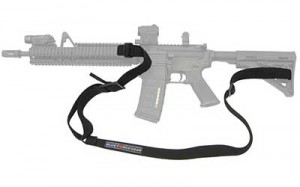 Identical in every way to our Vickers Padded SlingTM but with our exclusive Patent Pending High Strength Acetal Quick Adjuster molded in Ghillie-TexTM resin to match our other acetal hardware.  It's our favorite blend of value, comfort and performance! Available in all premium Blue Force Gear webbing colors including Universal Camo (ACU) and Crye MulticamTM . Ready to attach to weapons with front and rear QD push button adaptors.
Push button adaptors come sown to the sling.
Pad is 2″ wide. Webbing is 1.25 inches wide.