Heavy work in hot weather
Sometimes you have a day when the last thing you are thinking about is carrying a firearm or spare magazines.   There have been times that I just wanted to rip my belt off and thrown things on the ground because it was becoming so darn uncomfortable bending over and carrying stuff around while carry a pistol.   One thing that I do like to do at times is take off my gun and thrown it in a pocket.   Something very cool about wearing and owning certain tactical clothing pants and shorts is the pockets are so big that you can stuff a Glock 19 in them and they'll go all the way down.   Pocket carry with such a large firearm is not something I would plan on doing for very long, but it's possible.
Now that it's early July and Summer heat is in full swing, I usually keep my tactical clothing to a simple lightweight pants or lightweight shorts option.   I tried to wear the Blackhawk ligthweight tactical pants, but they were too hot, lately I've been only wearing the Woolrich Elite tactical shorts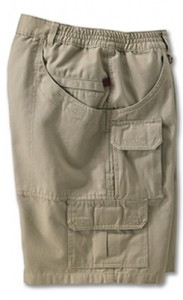 that are standard cotton canvas material, have lots of pockets, but aren't supper light weight that they don't support guns and gear.  There is a much lighter weight 4908 short, but it lacks the cargo pocket and that is one of the most useful pockets I use.