Some talk about the USMC adopting the Blackhawk Serpa Holsters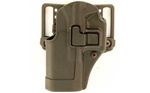 I just got done reading several news articles, gun blogs and yapping on facebook about the USMC adopting the Blackhawk Serpa holsters.   Many of them were fact and experience driven but I still see a lot of over reacting.  There are several videos floating around of the holsters being jammed up from dirt or snow and guns being locked into place inside the holster and the release button not working.   Well, try doing that same thing with your AR15 and you'll probable end up with a jammed firearm.    I think the argument is definitely there and there may be a slight modification to the gun release button, but I think the Blackhawk Serpa holster is a good holster.
Your cell phone and firearm can jam or even explode if  you don't treat them right and anyone knows that getting dirt down your barrel and obstructing a bullet means a doomed barrel.   Every mechanical device whether  Blackhawk Serpa holsters or a Galco leather holster can malfunction.   Even Fobus holsters were the recipients of some pretty harsh internet durability and reliability video.   This argument can go all the way back to wood rifle stocks vs plastic ones.   I would expect that the military may ask for a slightly improved version of the holster, but I wouldn't worry about the ones you have on  you right now.