Range bags and something else for carrying handguns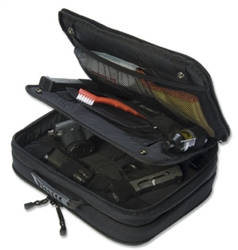 I have several range bags that I've used over the years and they seem to keep getting bigger and bigger.  I have lots of experience taking guns to the range and realizing I forgot a certain caliber handgun or forgot to bring a sight in tool and pretty much spoiled my range day by doing that.   Nothing sucks worse than bringing a rifle to the range and knowing it's not sighted in and not having the ability to correct it.   My Elite Survival Medium range bag was a step up from my Uncle Mikes range bag because it had a few better thought out features.
One thing I have learned to do is pack the bare minimum of firearm accessories, hearing protection and eye wear.  If I am taking a training course I usually use my Elite Survival bags like the 4 gun pistol pack.   I have modified that firearm bag to just use my combat or primary weapons.  It is outfitted with the  molle attachments that pertain to that caliber magazine, radio or other tools.   This Elite Survival bag can easily handle 4 large frame handguns and magazines.   My Beretta 92FS, Sig 229, Springfield XD and my Ruger GP100 all fit very well in this gun bag.