Some new observations about tactical pants after a plane trip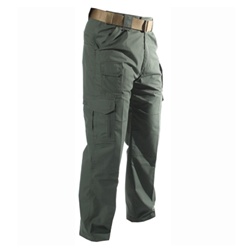 This year I had to do some business trips and I was in and out of cars, hotels, motels and airplanes for several days.   I had the new gunny boot cut tactical pants with me, Woolrich Elite Series Tactical Chinos, Tru-Spec 24/7 pants, and the Blackhawk lightweight tactical pants with me.  I figured this would  be a good time to force myself to try them out because normally I don't like to switch up my gear.   I always had a flashlight with me and if I wasn't wearing the Tru-Spec pants I had to find another way of keeping track of where it was so I knew it was always there when I needed it and knew that it didn't fall off or get lost.
Well, after a long plane trip, I was won over by one of my lease worn tactical pants and that's because I found the pocket placements to be very useful for what I was doing at the time.   The 65%/35% polycotton ripstop pants from Tru-Spec were very similar to the Blackhawk tactical pants that I was wearing on the plane trip but the leg pockets with the sidezip were very useful while being in the seated position.  I used these pockets for tickets for my flights and it was much easier to access than my hand pockets.  I never really thought about this until I was sitting there drinking a beer and was about to check what time my next flight was.