Desantis holsters, leather, kydex, sof-tuck ect…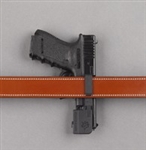 With so many changes taking place to firearms these days, it's hard to keep up with all of the gun designs, Desantis Holsters has options for full size, medium size autos and many of the popular .380 CCW guns. The firearm industry has grown so much in regards to concealed carry and holster  makers have had to really stay on top of the demand for .380 caliber pistols.  We are a stocking dealer for Desantis holsters and our most popular Leather gun holsters.   Desantis has a holster for you if you are carrying a small compact firearm like the Ruger LCP or if you are looking for a traditional leather shoulder holster.   The Desantis Scabbard with thumbreak is still a popular holster for Law Enforcement and Under Cover police.   The Speed Scabbard is basically the same holslter without the thumb snap retention.   Desantis inside the waist holsters are also available in different types of material.  Desantis also has ankle holsters and Kydex holsters.   Large frame guns like the Beretta 92 or Glock 21 need a lot of support and balance due to their size and weight.
The Desantis Thumbreak scabbard is still one of our most popular Detective and Law Enforcement holsters and even though there are Safariland holsters and Blackhawk Serpa holsters in wide use, thumb break holsters are still in use.   There are always varying degrees of retention in gun holsters but Desantis holsters has their staple of leather holsters, but so-tuck holsters for the Smith & wesson bodyguard and Diamondback .380 pistols are in wide use for off duty Law Enforcement.   My personal preference is the Desantis Speed Scabbard due to it's 2 position belt options and the fact there is no need for me to use any retention, it is an excellent outside the pants holster, and the Desantis gun belts are a good match for any medium or large frame semi-auto.