"That's not a knife, That's a knife"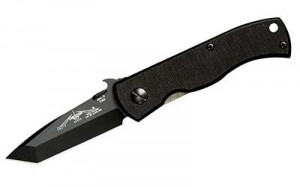 There are plenty of products in this industry that people won't buy online once the product hits a certain price range.  All the product descriptions in the world aren't comprehended by most customers because they usually need a dictionary to to reference to.   The designers in the product might be mentioned or a reference to another popular knife that our customers never heard of doesn't really help them.    Knives often displayed in glass cases show of the finish, but the majority of shoppers are going to want to know how it feels in the hand.  It's almost in the same category as gloves.   Handles and ambidextrous features make the difference because it's yet another left hand vs right hand piece of tactical gear that left handed people are often blackballed over and find out the product wasn't designed for theme.
Price ranges for most of the knifes from Spyderco, Kershaw,  Emerson and Columbia River Knife & Tool in the $50-$100 price range while others like Emerson are under $200.   There are lots of people in EMS industry that just want a utility knife or tactical knives  for under $50 and there are several knifes in this price range that go out the door with them.   The Timberline SOC Knife and the all of the plain edge and comb edge Vallotton spring assisted knives.  The majority of name brand knife manufacturers have good warranties so always keep that in mind and stick with the name brands.   Knife sharpeners especially the Gatco Sharpeners can be fun to use and will make you want to go in the kitchen and get your steak knifes ready for dinner.