There are huge differences in the types and applications of various combat optics.   When many people think about red dot optics there are big differences in the way that they are setup.  Some come with mounts, quick detach ones or thumb screw.  The differences between Aimpoints, Bushnells and C-more red dots are considerable and it's not just the quality of the optics.   I am very picky about clarity of reticles and it's kind of funny that the more I use Trijicon optics, the less I like red dots and Eotechs.   The thing that always hits me are the costs of Eotech sights, but the TA26 or TA44 scopes are so clean and crisp compared to the Eotech or C-more optics.
When do you really want an ACOG?  Trijicon ACOGS are really a medium range optics, optics like the Trijicon TA31F-G for sale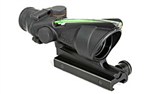 are just simple that.  Sure you can nail targets out past 600 yards with them, but if you want close range engagement you will probable want a different setup.  The RMR sights that are mounted at the top of an ACOG will cost more, but it really all depends on what you want to do with the sight.   Optics that take batteries are going to be around for a long time, as a matter of fact The TA02 is a new battery powered optic, but the new thing is going to be rechargeable and solar powered optics.