The good thing about the Safariland product line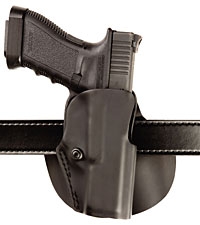 The good thing about Safariland's product line is they probable have the best selection of CCW and Duty holsters for the majority of medium to large frame firearms.   My experience with them is they are not outrageously priced and can be a bit on the heavy side, but at least you can get a holster.   Now that so many people are getting compacts and sub-compact firearms for off duty, it is an issue that takes a lot of patience and research to find a holster and probable 10% of the time we just tell  our customers they might want to look into getting a custom kydex holster instead of buying a factory made holster and finding out they don't like it.    We have been stocking more and more of the Safariland holsters for Glocks and Sig Sauer handguns because so many people, including our own State Police are using the Surefire  X300 on their Glock 21s and want an off duty holster that also holds the light.
Safariland probable has the best holster fit guide where you just click through the questionnaire and answer things like, Manufacturer, caliber, barrel length and if you want a light.   There are more left handed Safariland holsters than the Blackhawk Serpa product line and you can also use a non-xiphos flashlight in them.   The xiphos flashlights are really a bad idea and I can't name a single person that likes the light, let a lone the Blackhawk Serpa/Xiphos  combination.   I saw a holster design last year for a new Flashlight option from Blackhawk but it was not available for many firearms and is an endless issue for Police or Citizens trying to use the same gun.   If you are using or want a Streamlight TLR1,TLR2 or Surefire X300U, your best bet is to research the Safariland product line.