Shooting in undesirable environments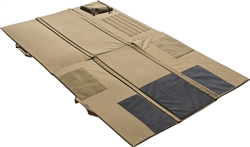 Sure we know the positions, squatting, shooting prone, but not only will you become uncomfortable after a period of time, stress builds up and it will have an impact on your ability to stay focused.    I've seen a lot of shooting mats in the past and they can be made out of a rug, foam sleeping mat or anything you want to make out of it, but weight and portability can be an issue.   I have an older Elite Survival Systems Ultimate Snip drag bag that works well with my DSArms STG58 and also is large enough to open up and give me some ground support if need be, but I decided to add the Epsilon shooting mat to my personal inventory after I got to hold on in my hands last  year.
The 2 things that sold me  on this item are that being 6'3″  I need a large shooting mat that I could use that my legs weren't hanging off it and second, the fact that this folded up like a briefcase and didn't curl up when It was deployed on the ground.   The Elite Survival Systems Epsilon shooting mat goes for $159.99 with free shipping and also has enough molle attachments and support that makes this also capable of holding a lot of gear.   I store Binoculars, spare magazines for my AR15 as well as handgun magazines and a mosquito net.   If you've shot off the ground you know how knees and elbows get torn up when you're down in the dirt, but that doesn't happen to me anymore because I bring this to the range with me and use it when desired.