Looking for a white light?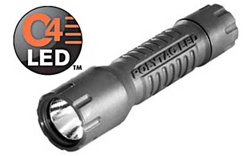 If you have ever taken a course at Thunder Ranch, one of the things you will hear from an instructor is to put a white light on your gun.    I think there are valid arguments about how to use lasers and lights on a firearm, but there are mostly liabilities in not having  a light available in defensive situations, especially in your own home.   Why would anyone not put a light on a firearm in there house?  Police are trained to move and turn lights off and on as they move white pretty much voids the argument that it gives the bad guys a place to aim, well, if the guy with the light spots the guy in the dark first, his gun is probable already pointed in the right direction.
If you wanted to, you can use duct tape on a lever action or a double barrel shotgun and use your grandfathers Radio Shack flashlights and it may do the trick, but for only another $25-$30 you can get a white light from Streamlight flashlights that won't burn a hole in your pocket, and given modern advancements in battery and bulb science,  you will save money on batteries in a very short time period,   The new Streamlight flashlights called the Polytac have a C4 LED that are 2-3x brighter than other LED.   I've done side by sider comparisons with my Surefire G2 and I do see the difference.  These flashlights are easily attached to most modern flashlights and can be used on Combat rifles without problems.