New USB Rechargeable Flashlights, is this the future? Yep!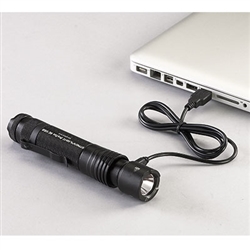 We've been hearing about this for awhile, USB rechargeable flashlights.   I believe it was an INOVA flashlight that I first handled that was USB rechargeable.   This is simple going to be the way of the future for all rechargeable flashlights because it's simple and convenient.   If you walk into your work place, trying to find an unused electrical outlet that you can leave your flashlight to be charged and walk away for 4hrs isn't going to be easy.  Now you can just sit in front of your computer and plug one of these new Streamlight USB Rechargeable Flashlights in and go about your business.   The one thing I am warning people about is being careful plugging these in.   USB ports tend to not be as rugged as wall jacks and in this industry, people tend to be rough on things and I think that may be one weakness people are going to find out about.
This Protac HL flashlight is the biggest brother in the Protac Series, you can use 2 CR123 batteries instead of a rechargeable battery stick so that's good if you need a plan B and your Protac HL USB Flashlight goes dead on you.   People are going nuts over all of these High Lumen lights, but please pay attention to the run time, the 850 Lumens is impressive but it only has a run time of 1.5Hrs.   I had an experience a few weeks ago where I had to use Protac 2L on High, extensively, the entire night and after a 5hr Security detail it was practically dead.   It made me wish I had more run time.   I'm impressed by this new Streamlight Flashlight, but always have a backup flashlight, backup batteries or use your light on low power as much as possible.  It's not fun when your flashlight doesn't run.