Gunvault gun safes what size do you want?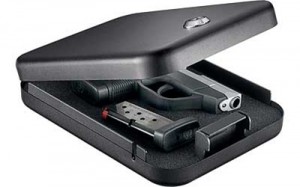 I have several gun safes in my home and not all of them are for firearms.  I think it's a responsible thing to do to put important documents in a safe like Birth Certificates, Marriage records and other things.  But how big of a safe do you need?  What if your wife wants to put jewelry in it?  What about firearms?   What size gun are we talking about and do you want a flashlight or something else?  A large safe in the basement is the way to go for locking up firearms but for use every day you really want something smaller like a gunvault safe.
You might want to stop in a stocking store though because not all gunvault safes are going to get the job done.  Some of the larger safes like the Deluxe model are pretty big even for a closet and gunvault safes also come in a much smaller version like the Gunvault Nanovault and the Gunvault minivault are for cars, travel or hidden locations.  Some safes also are designed with the biometric technology and are very useful for those that want quick access without having to push buttons or use keys.