Elite Survival Systems gun cases, travelling and profile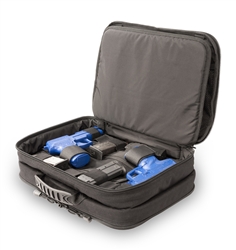 Many years ago there was a gun show in Pennsylvania where a whole bunch of firearms were stolen from a vendor that left the show, and stopped to get something to eat at a restaurant or diner and while he ate, all of his firearms were stolen from his vehicle.    In this situation it was a large number of firearms including Class III.   What a total nightmare, but anyone that parks a vehicle that has anything resembling a firearm where only a window is stopping them from grabbing it is asking for trouble.   Most people transport firearms in gun cases and a few times I've seen people transport them in a blanket because they didn't have a gun case, but the best thing to do is get an appropriate gun case, gun sock, and for everyone sake, keep it out of visibility.  If you are a gun owner, whenever you look to buy a new car, make sure you get your windows tinted because that can make a big difference.
What are some options for carrying a low profile gun case? Sure tennis rackets and baseball gear gets stolen, computers lap tops, cell phone chargers ect, but if someone doesn't know what you are transporting to and from your car, it's just a bag.    Elite Survival Gun Cases are highly recommended by our staff and purchased by gun owners, both Law Enforcement and Private Citizens for similar reasons.    We had a customer walk  into our store about a year ago because his neighbors teenagers got caught selling drugs and he didn't want anyone knowing what he was doing when he was going out on a Saturday afternoon to his gun club.   The same goes for pistol cases like the 4 Gun pistol pack that looks nothing more than a black back, but has room for 4 handguns, magazines and whatever else that floats your boat.