Police trade in getting fixed up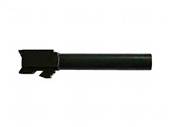 I think more than half the guns I have picked up for my collection were police trade ins.    CDNN investments is always one of the best places to find used handguns.   If you are a Glock, Sig or Beretta gun lover.  Check out their yearly catalog for used but hardly shot guns.    I picked up a Glock 17 a few month ago and like many of the guns that are trade ins, this gun had mostly holster wear on the outside.    One of my friends got one that was much more worn especially around the barrel.   While something like barrel wear has to be analyzed closely, it rarely is much of a concern to me.   Many of the used firearms you find in gun shops probable have less than 500rds  through them and the reason they look beat up is because of the holsters that they were used with and the fact the owner didn't clean them very well.
I have a few rifles that were not maintained as well as others and you can see the difference in firearm wear after a few thousand rounds.   My friends Glock 17 did show signs of not being as accurate as mine so I did suggest he look into getting a new barrel.    For another $150 or so, you will get your accuracy back and from my experience, most glock barrels can just be dropped in.    Even though there is much to back that Glocks do not need as much lubrication, it's still a good idea to maintain your firearms, mostly to reduce the amount of wear and tear.    I've seen huge variations in Beretta 92FS barrel wear just because I could tell the operator was not lubing their pistol correctly.   I'm also a big fan of using small amounts of grease in specific areas of handguns just because it grease doesn't dry up or slide off as easily.