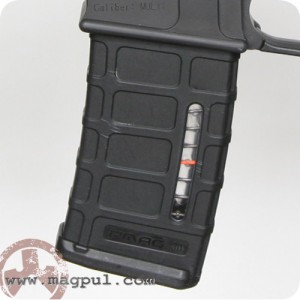 The PMAGTM (Polymer MAGazine) is a lightweight 5.56 NATO, M-16 compatible magazine. It features an advanced impact resistant polymer construction, a pop-off Impact Cover for storage, and an easy to dissasemble design with a flared floorplate for easy magazine extraction from pouches. PMAGTM utilizes a resilient stainless steel spring for corrosion resistance.
The MagLevel PMAGTM features transparent windows on both sides of the body and has a painted indicator on the spring for quick determination of approximate rounds remaining in the Magpul PMAGS
Our latest revision has been updated with a new body ribbing design which allows for better compatibility with aftermarket mag couplers, a new follower which gives even smoother loading with military stripper clips, and the Impact Cover can now be snapped onto the Floorplate when not in use to prevent possible loss. The MagLevel now has even larger windows than before and includes a black-oxide coated spring for increased contrast with the painted indicator.
Made in U.S.A.