Being prepared for the range and investing in Range Bags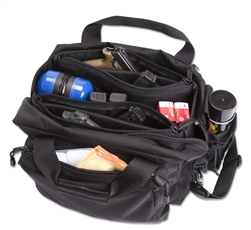 Just this past weekend I had the opportunity to bring one of my kids to the range,  while somewhat prepared and organized we decided we were going to bring rifles.   With all of my experience I've learned to have things packed up and organized in specific bags because I've had plenty of past experiences of showing up at a range with the wrong ammo, wrong magazines, forgetting to bring magazines, and the worst, forgetting to bring the stapler for hanging targets.  One of my old ranges was notorious for not being maintained and I open showed up without being able to hang my targets on anything so I  had to bring a backup.   There are plenty of things you can do wrong if you are packing up multiple calibers and when it's time to go home,  if you are disciplined in packing you are going to lose your magazines,  your stapler and your sight in tools.
Sometimes people get sticker shock when they see gun cases outside of Uncle Mike's and Bulldog but buying there is a lack of logic when spending money on $2500 rifles and not wanting to spend $100 on a rifle case.  The same goes for people with a lot of firearms and not buying decent range bags means losing money and time.   This Elite Survival Range Bag is hands down the first thing we suggest when people don't want cheap.  This bag comes in 3 different sizes and the medium is the most popular.  For people in competiti.on sports the Elite Survival Range Roller is a must and the newer Load Out Range Bag will get listed shortly.   Keep it organized and make your range trips more organized.