Tru-Spec Pants for colder weather, options?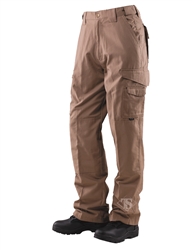 Most of this industry is full of 65/35 polyester cotton ripstop.  If you didn't know that, check the labels on your Propper, 5.11, Tru-Spec, Blackhawk and Vertx Pants.   You are starting to see other materials being introduced, primarily lycra which gives material a little bit more stretch, many practicing martial arts are finding this to suit them well.   The Tru-Spec Ascent pants and the 5.11 Stryke Pant are two of the more popular styles we see selling.   These pants are not going to keep you warm in the winter though.   I've done enough security gigs where I was reminding myself that on the next shift its time to switch to another material because those 1am-7am shifts can be painfully cold compared to sunny afternoon work.
I have to be honest, the Tru-Spec pants that sell the most are the lighter weight products, but if you are use to wearing the 24/7 Series Tactical Pants, there is an all cotton canvas pant with the exact same  pocket patters that is available.     There is another style they just came out with last year called the Delta, it's a nice pant but we know that people always have their preferences with pocket patterns.  One of the major negatives of the Tru-Spec pants product line is all the variations in hand pocket angles and depths.   We've seen a lot of people complain that when they try to add to their Tru-Spec pants wardrobe, that there are too many variations of wallet pockets and hand pockets that it's hard to pocket carry in some of the styles and access to hand pockets can be inhibited if you are wearing a paddle holster.  OWB Holsters can also inhibit access to the knife pockets that they design on some of their pants.  (Hint) That's why Blackhawk and 5.11 Tactical and many others, have pockets forward of the hand pockets. It's a good quality product line but you're going to have to pick and choose what works for you.