Blackawk Serpa vs CCW gun holsters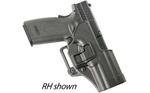 I love all of my handguns for various reasons and I guess that's because I've learned to appreciate each aspect of them and the genius of the designs.   Once you achieve a certain level of experience you become to know that so much of guns and gear is about the job at hand and personal preference.   When arguments break out in our showroom its not about leather vs. kydex, but it's about the levels of retention, Safariland holsters and Blackhawk seem to go together, but many like one over the other.  Much internet traffic has been generated about the USMC adopting the Blackhawk Serpa and how the guns can get jammed up in the  holsters and not release.
The Blackhawk CQC holsters are a marketed as concealment holsters too but many will find a holster like this hard to conceal except in the winter months, Blackhawk holsters like the Serpa in many peoples opinion, especially the Military is a fine duty holster.   There will always be a need for IWB gun holsters and Don Hume holsters and Galco holsters are still our biggest concealed carry gun  holsters.   IWB is probable the most practical although pocket carry is becoming very popular.   Pocket carry is still very much a white collar CCW and not really the best option for self defense.   Practice and situational awareness come before modes of CCW, but IWB will always be a more reliable way of carrying a firearm.