Get me a gun case that is ready to go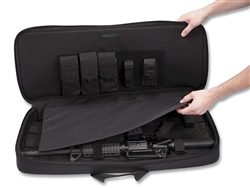 When many of us get an AR15 we usually buy it by itself, shoot it for awhile and then add on accessories.  Most people I talk to about this issue when I'm explaining the reasons why we stock the Elite Survival Systems gun bags are usually usually nodding their heads.   The reason they are looking at these bags is because they can't use the gun bags from Uncle Mikes or Bulldog.   I have several M4 Carbines that I had to disassemble to get to the range because the assault rifle gun cases I had wouldn't fit them because of the flashlights and optics.   It royally sucks when  you get a new gun add stuff to it and find out you need to spend money on another gun bag, but if you do, check out the Elite Survival Systems bags.
The gun cases we have in stock now are the Covert Carry Discreet cases.  Everybody and their dog starts out with the Assault Rifle cases and I have to admit there are some differences between them but the Elite Survival Systems gun cases are in the "good stuff" category.  I have been clearing out some of my older gun socks and gun bags and giving them away to try and keep my higher end guns in better order. The Covert Carry gun cases come in various sizes but they also are customized to carry either AK magazines, 9mm/40 Magazines, and AR15 magazines.   Having velcro straps to tie down your rifles optics, a protective closed cell foam padding between magazines and the firearm and also a compartment to attach the magazine pouch and any other pouches.