Useful tools for practical defense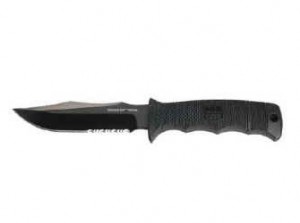 A knife is a tool, tools can be used for many things.   How many times have good people used knives for good and how many have been used for evil.    Just about anything you find in your tool box can be used for self defense purposes and some may be quite good.   Many years ago the Swiss Army knife was issued and it is a great thing to use if your in the Army or in Scounting, but they really aren't the best thing to use for self defense.
Some self defense instructos may tell you that folding knives are not the best fighting weapons, and they probable aren't, but it doesn't mean you can't use it for slashing a BG or just showing it to a potential robber to ward him off.   Sog Knifes are a great place to look for a diverse tactical knives product line for knives that can be used for camping, cutting, and fighting and you feel real insecure, try the SOG Battle ax.