Range mags and carry mags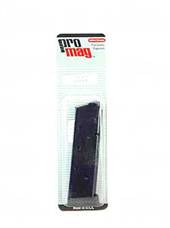 The Mini 14 was hands down the gun that was  hit the hardest by the AWB in the 1990's.   Ruger is now making 20rd and 30rd magazines available to the public and those magazines were going for close to $100 at one point in the later 1990s'.    There is nothing wrong with having magazines for firearms that are not the best, sometimes it's better to rotate through cheap magazines and practice malfunction drills or just toss them when they were out.   You don't want to use  your carry mags all the time because if you are shooting through hundreds of rounds of ammo using the same mags that you use for your daily carry, you may find out at the wrong time that the springs need to be replaced.   I picked up a good supply of Mil-Spec 1911 7rd magazines that I rotate through my guns and save the Wilsons Combat Magazines for the serious shooting.   When the mil-spec mags start jamming too much, I just toss them.
I'm not so sure there is as much of an issue in the gun industry as there once was concerning factory mags vs. aftermarket.   Most gun manufacturers can legally get their products to the civillian market without major legal issues.   Back in the 1990's trying to get "Standard Capacity" magazines meant paying 4-5 times what they should have cost.   I remember avoiding certain firearms just because I knew that the magazines would cost $50-$100 and that just didn't seem like a good investment at the time.   I noticed sales of the Beretta 92FS were very common back then because they were one of the few firearms that has resonable priced pistol magazines.   Finding good deals on used Glock magazines was a whole other issue, but if you weren't buying guns back then, you probable have a hard time understanding how complicated the situation was.