Don't think magazine capacity is the only thing that wins the race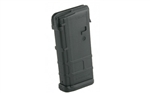 It's really also a contest about speed.   There seems to be an addiction to 30rd magazines with AR15 owners but all you have to do is roll the clock back 20yrs and most of the gun magazines for M14s, FALs and G3s were 20rds.   Why were they 20rd magazines…because the guns were far too clumsy and bulky with 30rd.   There is still some truth to that with 30rd 5.56 magazines.   The AK47 is a firearm that is very clumsy do to it's contour when being fired from the ground and would also be better balanced with 20rd magazines.
If you are in the business of having to suppress targets, than higher capacity magazines are for you, but for moving with speed and agility, try the 20rd magpul pmags for sale.   There are several new Magpul accessories that are giving better balance back to the AR15, especially the M4 design which was really getting out of control with protruding fore grips ect.   The magpul angled fore grip is something that brings you closer to the tradition gun hold but gives you the ability to grip your firearm better.