We have plenty of customers that can wear shorts for most of the year but there are some season changes that we deal with and Summer and Winter affects what inventory we stock.    We tend to sell most of the same inventory all  year long due to the fact we sell clothing both Nationally and Internationally as well as local.   It's sometimes funny to see people in Alaska and Michigan buying sweatshirts while people on the East Coast are well into hot weather.  Usually when all of the IDPA competitions or State competitions are going on we usually see an up tick in sales of womens tactical shorts and pants.  Depending on the environment and the terrain of the competition it's one or the other.   There are knee pad options with most of the tactical pants we sell but the Hatch knee pads and the Blackhawk Neoprene tend to sell very well.   We have many of the same complaints about inseam lengths for various tactical shorts because just like pants, not everyone is the same height and wanting shorts that have a 7 inch inseam or 9inch will not be available with every company we deal with.
The biggest selling point with the Tru-Spec product line is that they are very consistent in sizing and they are also very durable.  If you have ever seen the Tru-Spec 24/7 Series pants, the Tru-Spec 24/7 Series shorts are just a cut down version of those.   I tend to prefer those Tru-Spec tactical shorts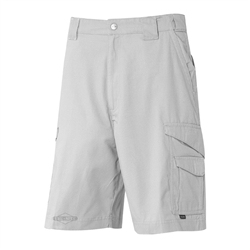 over the BDU style because I don't think it modern times with CCW and Cell phones, flashlights and various knives, that having large pockets where cargo just floats around is all that great.  I'd rather have a pocket for all of my stuff so I know which direction it is pointed and treat each pocket much in the same way I'd treat a firearm in a holster, it stays where you leave until you need it.    The BDU style shorts tend to be popular with the people working in EMS because they are inexpensive and they don't need a bunch of pockets.    The Tru-Spec ladies clothing is hands down our best rated product line for women, according to our female customer base!