It doesn't matter what you spend on a knife, if it works for you you're fine.   There are plenty of reasons to not have to spend $180 on a knife, even if it's really sharp and holds and edge.   If you loose that knife I guarantee you're going to cry.   Besides being able to have a good edge on it, get a good knife sharpening kit or whatever knife sharpening system you think works for your price range and use it correctly.  I've seen many times how people just eat up a knife and don't sharpen them properly, and it's basically useless once you get away from cutting through tape on boxes you got shipped in.  A butter knife can usually get the job done just because it's hard and and blunt.  One thing I have found that people should seriously consider is a good sheath or make sure you loctite any and every screw even if it means taking it out and putting it back in.
I don't really have a favorite knife because I use so many of them for different things, on second thought, I think my steak knife is my favorite.   We  have a large selection of tactical knives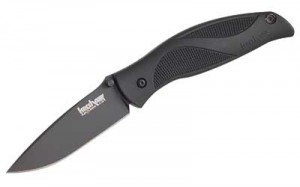 , rescue knives and even SOG and Leatherman multi-tools.   Sometimes  multi-tool might be a better idea but make sure it's something you are actually going to carry and not get something that is an over kill.   There are always elaborate ways of carrying these from neck knives, boot knives, clip on pocket or carrying in a sheath.   Different blade metals can make a huge different in durability but a knife that looses it's edge isn't going to be of much use for cutting.