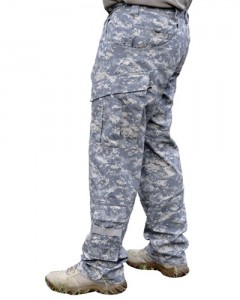 Woolrich entered the tactical apparel market several years ago, as well as Blackhawk gear, Proper and Tru-spec.   Most of these clothing companies have good aspects, but recently we've seen another Tactical apparel company making very well designed clothing.  Eotac is the short version of the Elite Operator Tactical clothing line.  Their tactical clothing line has been on the market for barely a year, and some products only a few months, but the design and durability seem to be putting them in the heavy hitter category.  The 201 Operator Grade Pants have the best designed ACU tactical pant on the market.
5.11 Tactical has long been the market leader for tactical apparel and clothing.   Ever since Sept 11th and the beginning of the Wars in Iraq and Afghanistan the demand for non-military style clothing has increased.   Deployments in these regions includes and enormous number of security forces from private companies.   Since the early part of the decade we have seen the emergence of several tactical pants and tactical clothing.  We've also seen a few fizzle and fade away.
All critical seams are double-needle stitched and bar-tacked at stress points. The Action Waist has side elastic panels for freedom of movement and easily accommodates an inside the waistband holster.  The leg pocket designs are better designed than some of the other variants on the market.   The matching leg strap is a big issue for those concerned about having contrast in clothing out on the field.  While opinions about fit and finish are always subjective, the pocket designs on the Eotac Tactical Pants are are well thought out.   Having the ability to load 6 AR15 or M16 30rd magazines into your pants and still have the ability to move about without any restriction is impressive.  The 100% ripstop design makes this almost unneccesary to worry about some fancy tactical vest which those in warm climates can appreciate.